Owner of one of the best-known financial trading apps with the same name, IQ Option was founded in 2013 as a Binary Options broker.
With a very clear and simple user-oriented way of operating, it developed an app that disrupted what existed at the time.
Their goal was for their app to be good and simple enough to serve the novice and the professional trader.
The one with a lot to invest and the one with very little to start with.
The strength of the company is the low investment amount and the flexible trading platform.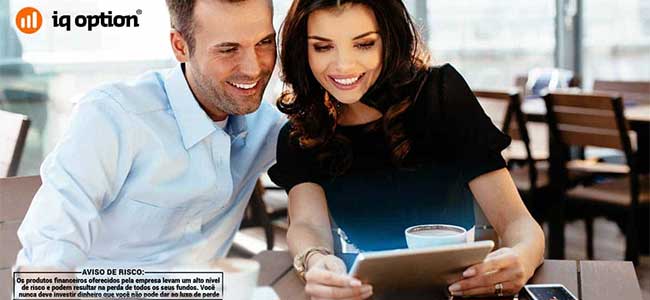 What is IQ Option?
It is a company based in the Yiannis Nicolaides Business Center at 33 Agiou Athanasiou Avenue, 4102, Agios Athanasios, Limassol, Cyprus (EU) and is also regulated by CySec.
Currently, there are more than 3 million trades executed on the platform.
The broker wants to give the trader a complete platform with a huge variety of different assets and financial products.
I have known this broker since 2013 and they always improve their service and offering.
With a growing customer base, the broker's payouts are also going up. In 2019 they withdrew over $19 million every month. In 2020 the figure rose to over $35 million.
See a Summary Chart of IQ Option
| | |
| --- | --- |
| Broker | IQ Option |
| Regulating Entity | CySEC (europe) |
| Creation | 2013 |
| Customer Service Channels | Email, Webchat, Tickets, Skype (for VIP accounts) |
| APP | IQ Option Platform for mobile Phone, Tablet and Notebook |
| Minimum Deposit | 10$ |
| Minimum Trade | 1$ |
| Account Types | Demo, Real, VIP |
| Deposits | Visa, MasterCard, Skrill, Bank Transfer, Qiwi, WebMoney, CashU, iDeal, Fasapay. |
| Withdrawals | Visa, MasterCard, Skrill, Bank Transfer and E-Wallets |
| Expiration Times | 30s, 60s, 120s, 180s, 240s, 5 min, 10 min, 15 min, 30 min, 60 min, end of the day, weekend |
| Option Types and Number of Assets | Turbo Options – 32, Binary Options – 63, Forex – 112, Digital Options – 27, Crypto – 34, CFDs – 225, FX Options (Europe only) – 12 = TOTAL 505 Assets |
| Trading Currency | EUR, USD, INR, RUB, ZAR |
| Account Currency | EUR, USD, INR, RUB, ZAR |
| Score | 98% |
| Account opening | Free |
Is it a reliable broker or not?
In the financial sector it is difficult to find a good broker because the selection is so big. You can read a lot about scams and pyramids.
We know that IQ Option is very popular among traders, but is it worth investing your money there and how good are they?
In this review read more about the facts and conditions for traders.
Facts: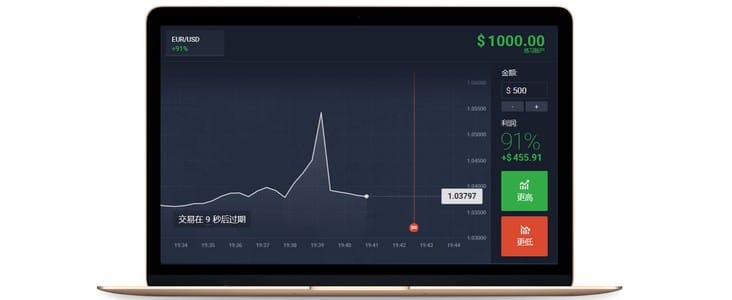 – Headquarters in Cyprus (EU)
– Broker since 2013
– You can use small investment amounts (1 $)
– Deposits starting from 10$.
– All in one trading platform
– High asset profit of 95% for binary options
– No hidden fees
– Broker with the most customers in the world
Is IQ Option Honest?
The broker is based in Europe and uses the best banks for the customers money.
IQ Option's money is separated from the client's funds. This is a big advantage and eliminates conflict of interest.
In addition, they use different coding techniques to provide a secure platform.
The trading account is very secure as well.
You can use two-factor authentication.
After your login, you will receive an SMS message with a login code.
You only have access to your account when using your smartphone. This option can be enabled or disabled.
– Regulated in Europe
Secure customer funds at different banks
Regulated payment methods
Security options for your account
Conflict of interest is a critical issue for most brokers. Not for IQ Option.
IQ Option hedges its clients' positions in the real market for Forex, CFD and Crypto.
On the other hand, they hedge binary options between traders and there is no conflict of interest. In conclusion, the broker is one of the safest companies in the world.
We can thus conclude that yes, IQ Option is reliable.
How to Enter and Login to the App?
Entering, logging in, or downloading the application in order to use it is simple, easy, secure, and fast.
Registration is done in less than 1 minute, because to start with a free training account the user is only asked to enter an email and password.
If you are interested in learning more, opening a free account, or simply getting to know the application, just click the button below to be redirected to the Official site and try it out.
You should also read this article to learn about some important security rules to keep in mind when downloading applications from the internet, especially those that deal with investments and money. Read the article on how to download and login safely.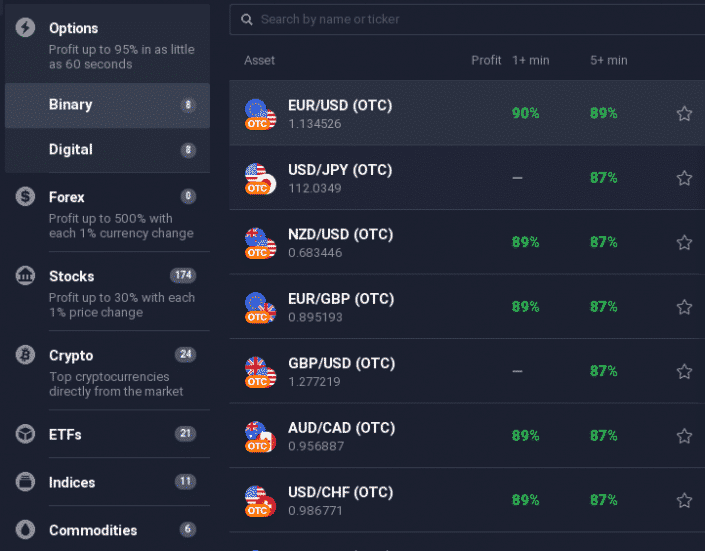 The most traded financial product in the platform is Binary Options. You can choose an expiry time from a short time frame, usually 30 seconds to 1 minute, which is Turbo Options, or known as 60 second options, to regular Binary Options which usually start at 15 minutes and can go until the end of the month.
The platform gives the trader the flexibility to develop his own trading style.
The profit on Binary Options assets is, compared to other brokers, very high!
With a regular account, you get sometimes above 90% return.
The VIP account gives you 5-20% more return.
With the platform trade Forex, CFDs and Bitcoin with spreads below 1.0 pip. The spread depends on your asset and the market condition.
In addition, you can trade with a maximum leverage of 1: 1000.
This is very high, but you can change the leverage before each trade.
In conclusion, for me IQ Option is a synonym of reliability.
The range of assets is quite high and the fees are at the lowest point compared to other brokers.
Is IQ Option's Platform the Best in the Market?
IQ Option offers a unique trading platform for the browser, desktop, smartphones and tablets.
The platform is flexible and very customizable. The broker aims to make trading very simple.
Beginners learn how to use the platform within minutes.
It is an all-in-one platform because IQ Option offers so many opportunities to invest in the financial markets.
You get access to a wide range of features with just a few clicks.
Use different chart types and popular indicators for your own strategy.
You can customize the chart yourself. Multicharts for better analysis are available.
To understand how the IQ Option Platform works and how you can set it up correctly see the article I prepared with all the important information about the platform. Click on the link below and learn how the platform works.
What are the best strategies for trading?
Many traders use so-called strategies which are systems based on different factors (economic news, technical indicators, candlestick analysis etc).
The function of a strategy is to help a person make decisions on how to trade. Whether it is in the choice of the asset, or what direction to trade, a strategy serves to help one know what to do.
That is why it is common that one of the first searches of those who have just opened an account at IQ Option or any other similar application, is to look for a strategy that helps to make good trades.
It is common for laymen to look for strategies that guarantee profits or trade success rates of 90% or 100%. Something that is impossible to happen.

Inexperienced people sometimes open an account because they have seen advertisements that guarantee high profits in an easy and simple way, with success rates around 100%. This information is just advertisements that say anything just to get the person to open the account and earn commissions for it.
Having a good strategy is important, but not more than learning, having discipline or using signal systems or other tools that help the trader to obtain positive results.
In this sense the important thing is to test several strategies until you find the ones that you find bring you better results or simply that suit more to your trading profile, knowing that no strategy will work every day and every hour.
To better understand what they are and how they work, as well as some advice on the subject, read the article on STRATEGIES.
Signals and Robots
No less sought after than the strategies, are the trading tools to support trading in the IQ Option application.
Of the various tools that exist, the most well-known and used are:
Signal Trades:
Signals are indications of potentially positive trades that are sent to traders. The work part of looking for entries and using strategies to look for trades that have good potential to be profitable is done by these signal systems.
The user just receives these signals or indications and after doing a quick analysis of the signal (it is always advisable to do a quick check of the signal before placing it) places it in his application.
One of the most frequent ways these signals are sent is through Telegram.
One of the examples of channels that send free trading signals is this Telegram signal channel.
Robots or Bots:
Trading Robots or Bots are computer programs that do all the work of the trader, trading instead of the person.
That is, they do all the work, including placing the trades in the application, unlike the previous system (the Signals) where it is the person who places the trades in his account, in his application.
Being able to earn money without having any work is everyone's (or almost everyone's) dream, so there are many who look for this type of programs.
To learn more about how Bots or IQ Option Robots work, read the article dedicated to this subject: Robot.
The 8 Reasons to test the IQ Option platform:
European regulated broker with many years of market regulation and the largest number of active clients in the world.
24 hour support in several channels and in several languages, including Portuguese. It is very important that we can have support in our language and that it is available at any time and in several ways. It is normal to have doubts and customer support ends up being always fundamental for the company to win the trust of its clients.
You can open an account and use it as long as you want without having to deposit or trade with real money. The training account is always active and can always be reloaded, and there is no obligation to make any deposit.
You can start with an investment of $10 or $20. You do not have to make large deposits in order to participate and earn money.
More than 500 different assets allow you to choose from a wide range of products to invest in what you like, from raw materials, to world-renowned companies, cryptocurrencies or currency pairs (Forex) the application has plenty of choice for the user to trade with the assets he likes best.
Diversity of financial markets, make it possible for the customer to trade 24 hours a day, 7 days a week. The application is always up and running, any time, any day.
Application available for cell phone, tablet or computer. Whatever your device or operating system (Windows, Android, iOS, etc) IQ Option has an app that will run on yours.
Diverse profits that can go up to 900% in a single trade (5 minute Digital Options) and up to 100% (Binary Options between 30 seconds and 1 month).
In addition to the points above, we can highlight a few more points that we should take into consideration and that also help explain the success of the company, and why it is by far the app with the most users and the fastest growing every year.
Free tournaments where the user can win money, even without depositing anything.
These tournaments also serve to test strategies and improve your trades, because being in tournament mode even knowing that you won't lose money, you will have more interest, because you have real prizes at stake, which allows the trader to trade in real mode, without fear of losing your money.
Several ways to deposit and withdraw in order to make it easier for users to make deposits, as well as to redeem their profits in a fast way and without costs.
Several levels of accounts with several advantages for those who become for example VIP clients.
However, it is normal sometimes to have some difficulty in getting an answer quickly, because of the increasing amount of new users every day, sometimes being difficult for the support to attend all the clients quickly.